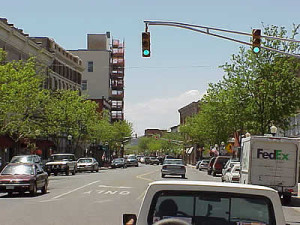 There are a few places we all know, and Trinidad, Colorado is one of them. For decades when a person wanted to make the transition to the opposite sex with guidance and professional assistance, Trinidad was the place to go.
This small town in southern Colorado has claimed the title of the Sex Change Capital of the World for over three decades. Not exactly a number one tourist destination, although it's a pleasant enough environment, Trinidad may not necessarily be a place that one would consider their dream vacation spot.
With all the necessary local amenities such as Trinidad Roofers, Denver Caterers or Aurora Towing Services to support your every need, if you wanted to discreetly follow the dream of becoming who you really are, then you're in the right place. More than 10,000 sexual-reassignment operations have been performed in the small local hospital there.
Trinidad is about 195 miles south of the capital city of Denver, the steady population is under 10,000 and not growing. Colorado has been known as a liberal, live and let live State without the froo froo fringe that has tagged California over the decades. With the deepness of the blue sky acting as the ethereal roof over the Rocky Mountain town, Trinidad is going through changes of its own.
The history of how Trinidad became the Sex Change Capital of the World started with a local resident who came back from the Korean war and became a general surgeon. Stanley Biber, from a ranching family who had grown up in the small town knew everyone and everyone knew him.
He was accepted as a hometown boy.  
In the late 1960's Biber was requested to do a sex-change operation by a social worker who had confided in him his very personal story.
After doing more than ample due diligence, consulting with an expert surgeon in New York and studying plans from John Hopkins, Biber agreed and performed his first sex-assignment surgery at Mount San Rafael Hospital. During his career, the retired eighty-year-old doctor figured he had competed 6,000 sex-change operations.
As we know there is more to sexual reassignment than a few snips and stitches. The initial period takes about a year of adjustment. Trinidad thrived as local businesses grew and prospered from the business that the title Sex Change Capital of The World brought it. Real estate flourished, local cafes, salons, clothing shops and other infrastructure benefited from the influx of its unique clientele.
Dr. Biber reluctantly retired in 2003, but passed the practice along to Marci Bowers. Dr. Bowers had undergone sexual-reassignment surgery in 1997 and met Dr. Stanley Biber in 2000.
She had a successful, OBGYN practice in her native Home in Seattle, Washington but moved to Trinidad to continue the work that was considered invaluable by so many.
The problem was, as is the case in many small towns, Dr. Marci wasn't local grown. She wasn't a native of Trinidad and hadn't grown up in the area. The other issue was the weekly reality show that aired on the Women's Channel called Sex Change Hospital. It followed Dr. Bowers and six patients through their process of sexual-reassignments. The bureaucracy of the town and specifically the hospital didn't not tolerate it well. They decided that was not the image they wanted the world to have of Trinidad.
That was nearly eight years ago. Since then we have made incredible ground being recognized as a culture in our own right. The procedure is not uncommon any longer, and you don't have to travel to, and spend a year in a little mountain town in southern Colorado. But acknowledging those who paved the way for change is part of what we do at Talking Tranny.
Dr. Stanley Biber was truly a pioneer with thousands of operations that physically turned men into women and hundreds where he helped women become the men they knew they were. Let me remind you of a couple of good reads: "Sex Machine" by Harrison Fletcher which details Bier's medical journey and his follow-up article "Sex Change".
Thanks to Caitlyn Jenner it's a different world for us now. Move forward with pride and the feeling of freedom we have always deserved.