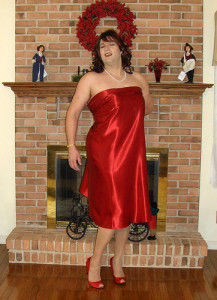 We all want to look good for the Holidays. Some of us want to sparkle and glitter with the season, and then there are a few of us who want to go with an elegant understated look. I must admit though, understating is not my forte.
Where are the best buys for our particular needs? We want to have that WOW factor when we enter a room. Showing off our individual style is the goal. None of us want to look like everyone else at the party and feeling like we just worked a 24 hour shift for Hamilton Towing Company. We want to shine as our glorious, individual selves. This time of year gives us the chance to show our beautiful, handsome selves off. Knowing where to get the look is where its at.
One of my favorite boutiques+ is Janet's Closet. If you are local to her area, by all means make it a must stop shop. If you are long distance, Janet can make it all work for you with a personal consultation. You can get the outfit to die for at Janet's Closet. The selections vary widely from the glitzy to the subdued, to the 'hey check me out' look to the low-key, and soft alluring look.
Janet's "Man Made Collection" offers a full line of custom made clothing. She has a particular talent for making men look sexy in women's clothing. To look good in any ensemble, she also makes sure you're well supported by supplying a more than ample selection of breast forms and top quality adhesives. Janet wants you to look fabulous, so you'll not only feel great about yourself, but so you'll tell others about Janet's Closet.
The wig boutique at Janet's has everything you'll need. Not all of us are born with the hair we want – there are a lucky few, – but I don't know any. Why not supplement or even go all out with a full coverage look. When our hair looks good we feel good – there's no doubt about it. A full line of choices awaits; names like TressAllure, Revlon, Noriko and Rene of Paris. The staff will pamper you and work with you as you find the right look to compliment your personal taste.
Shoes can make or break the outfit. I was shocked to see the variety that Janet offered. She had an array of high heels, stilettos, boots, sandals and cross-dresser shoes. She features the Le Dame line as her personal go-to choice of footwear.
Your undergarments are vitally important in making the feel of the occasion perfect. To sense your sweet self from the touch of silk and lace underneath that gorgeous exterior is the foundation – excuse the pun, of your whole look. I found panties, tap pants, nylons, stockings, sexy tights and body suits along with bustiers, camisoles and boy shorts.
The best part about Janet's Closet is there's more to it than just clothes. She offers her "private transformation services" where she or an expert on staff will give you an entire make-over. From the ground up, you get to be the object of attention of Janet, a stylist and make-up artist. They will work as a color consultant helping you pick the colors that best compliment your skin tone and hair color, what type of dress best flatters your build, and how to carry yourself when you wear heels.
Keep in mind that purchasing on-line is always an option if you are not a local resident of Wyandotte, MI. I've never had any trouble with the shipping or the condition of the merchandise when it arrived. If I needed to send something back, once again, there was no problem with the return. Naturally, I only sent an item back that was not used.
I highly recommend Janet's Closet for all your cross-dressing needs. Along with getting a more gorgeous you, you're made to feel welcome and appreciated with the utmost degree of privacy. It doesn't get much better than that!
Have you shopped at Janet's? Let me know what your experience has been by leaving a comment below.
All my love, dear ones for a beautiful you at this beautiful time of year.